Published 01.01.20
On the 20th February 2020, the BANK OF ENGLAND will start to roll out the new £20 polymer note.
The new note has been dubbed by the BANK OF ENGLAND as the most secure note ever produced, and has several new security features added.
All our machines will be ready for the new notes, including the Scottish and Irish versions ready for the 20th February roll out. There will be a transition period where all our machines will accept both the new polymer and the old cotton notes.
The Bank Of England will give six months notice when the older notes will cease to be legal tender. No date has yet been given for the withdrawal of the cotton note
For more information from the BANK OF ENGLAND, click on the link below
https://www.bankofengland.co.uk/banknotes/polymer-20-pound-note
---------------------------------------------
£20 POLYMER NOTE FEATURES
Hologram image change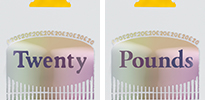 Tilt the note from side to side. Check the words change between 'Twenty' and 'Pounds'.
See-through windows

Look at the metallic image over the main window. Check the foil is blue and gold on the front of the note and silver on the back.
Look for a second, smaller window in the bottom corner of the note.
The Queen's portrait in the see-through window
A portrait of the Queen is printed on the window with '£20 Bank of England' printed twice around the edge.
Silver foil patch
A silver foil patch contains a 3D image of the coronation crown. You will find this above the see-through window on the front of the note.
Purple foil patch

A round, purple foil patch contains the letter 'T'. You will find this on the back of the note, directly behind the silver crown on the front of the note.
Feel of polymer and raised print

---------------------------------------------
© Copyright Sonic Electronics 2020, All Rights Reserved